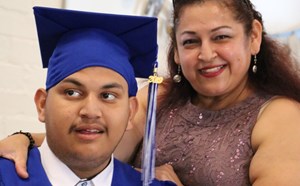 Mark Twain celebrated student graduations and promotions in an exciting ceremony. Students were promoted from kindergarten to 1st grade, 8th to 9th grade, and high school to adult transition. Congratulations, scholars! Keep up the amazing work in you…
Principal's Message
Dear Mark Twain Families,
It is with great excitement and pride that I write this letter of introduction as the new principal of Mark Twain.  I am honored to have the opportunity to serve as a part of this great community of students, staff, and families.  Along with our outstanding staff, I will work hard to build upon the great work and successes that have been established at Mark Twain.  My passion for education and supporting the success for all students has been molded over the last several years as a special education teacher, special education administrator, and high school assistant principal.  Therefore, it will continue to be my number one priority at Mark Twain to ensure dedication towards supporting a safe and rich learning environment for all students, staff, and families. 
Most importantly, I am a firm believer that a strong home/school connection is essential to establishing a positive educational experience.  It is with this thinking that I truly look forward to collaborating with all our stakeholders in continuing the great successes at Mark Twain. Having had the opportunity to serve as the summer school principal for several years at Mark Twain, I have had the privilege of getting to know several of our amazing students, staff, and families.  One of the greatest impressions that I have taken away from these interactions has been the endless amounts of enthusiasm and pride shown for the school community.  It is with great joy that I look forward to becoming an integral part of this learning community.
Mark Twain is the home of the Warriors!  The heart of the warrior is one that demonstrates perseverance, resiliency, commitment, and passion.  I believe that our families, students, and staff are all embodiments of these attributes!  With this, I look forward to a great year ahead of us!  Please do not hesitate to contact me should you have any questions, concerns, or ideas that you would like to discuss.
Respectfully, 
Baldwin Pedraza, Principal
Our School
Mark Twain provides specialized academic instruction for students aged preschool through adulthood.  Our instructional program focuses on building the functional skills of our students in the following areas:
Academics
Communication,
Social skills
Daily living skills
Vocational skills
Recreation and leisure
Physical education
Humanities- art and music 
Our instructional program also incorporates community-based instruction, where students increase their opportunities to further develop their social skills and other specific skills critical to the individual's ability to function independently in the community.  With support from staff, families, and the community, Mark Twain works tirelessly to ensure an empowering, safe, and enriching educational environment for our students.